Peltier Devices
Thermoelectric Coolers or Peltier Devices
Standard or custom made
cTech offer a wide range of high quality, competitvely priced thermoelectric coolers or Peltier devices from a world leading manufacturer, Ferrotec.
Our range of modules include: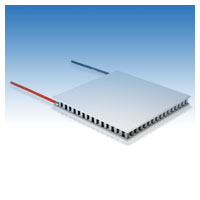 Long Life for Thermal Cycling
Specifically designed for temperature cycling applications. Significantly longer thermal cycling operational life.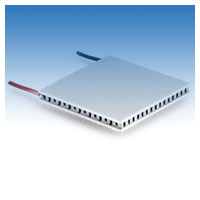 Standard Peltier Coolers
Suitable for a wide range of cooling and heating applications with low to high heat pumping capacities.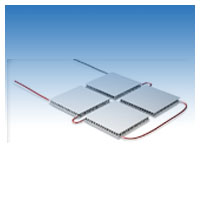 Custom Peltier Coolers
Ferrotec can offer either small modifications to standard modules (such as custom wire leads, sealed modules etc.) or completely custom designed modules in terms of size, shape, performance, substrate materials or metallization.
Telecom Grade Miniature Peltier Coolers
Suitable for various cooling and heating applications where a small footprint or a small amount of heat is involved. Typical applications for these specialized TECs include laser diode cooling, infrared systems, electro-optics and electronic equipment and other low-wattage applications. 20 senes modules have been tested to Telcordia GR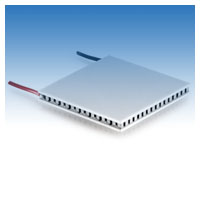 High-Power Peltier Coolers
Designed to maximize heat pumping capacity. By increasing cooling capacities and efficiencies in a standard thermoelectric cooler footprint.

Deep Cooling Multistage Peltier Coolers
Provide significantly higher temperature differentials than are obtainable with standard single-stage modules.

Special Design Peltier Coolers
For applications required round center hole and multi hole designs.

Sealing Options
Silicone – Effective moisture barrier.
Polymer – Ultimate corrosion Resistance.
Epoxy – Standard moisture protection.
Peltier Assemblies
Please email or call for more information.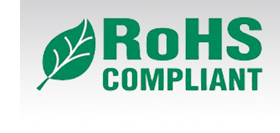 | | |
| --- | --- |
| | cTech is the partner for FerroTec in the UK and Ireland. |