Cold Forged Heat Sinks
Cold Forged Heat Sinks is a cold forging is a process where cold material, in our case aluminium or copper is squeezed into a die under very high load creating a new shape. This is also known as impact extrusion.
Cold forged round pin heat sinks offer advantages over cross-cut extruded heat sinks in that the shape of the pins creates more turbulence whilst reducing pressure drop.
At cTech we offer these in a large range of shapes and sizes, please contact us to discuss your requirements with one of our experts.
cTech Ltd
20 Finns Business Park Bowenhurst Lane Crondall. Hampshire GU10 5RX
t:
01252 851133
e:
Email Us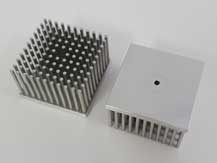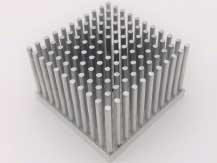 Bringing
cooling technologies
to you
cTech provides thermal management products into demanding markets and applications. We have a range of passive and active cooling solutions to suit most requirements. We can provide advice, consultancy, custom and standard solutions. Read More >
Contact us, we are here to help…